Full Airport Name
Gran Canaria Airport

Address
Gran Canaria Airport, Telde 35071, Gran Canaria/Las Palmas, Islas Canarias, Spain
Country Code


34


Telephone


(0)928 579 130
Number of Terminals


1


Airlines



Consult information about all the airline companies operating out of this airport.
(More Info)



Time Zone


GMT (GMT + 1 from the last Sunday in March to the last Sunday in October)


Location


The airport is located 18km (11 miles) south of Las Palmas
Driving Directions


Access to the airport from Las Palmas and destinations on the east coast is via the island's main north-south motorway GC-1. The airport is well signposted from the motorway and adjoining secondary roads.


Public Transport
Taxi: Taxis are available from stands outside the Arrivals areas of all three zones. Bus: There are frequent bus services between the airport and the capital, as well as other destinations on the island. Bus no.60 runs to Las Palmas for Parque de San Catalina and Parque de San Telmo. Bus no.66 runs to Faro de Maspalomas. Bus services depart from outside the Arrivals halls of zones A and C. For more information, contact GLOBAL (tel: (0)902 381 110).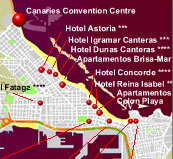 The Canaries Convention Centre - Alfredo Kraus Auditorium


The Canaries Convention Centre - Alfredo Kraus Auditorium, in Las Palmas de Gran Canaria, built by Catalonian architect Oscar Tusquets, is situated in one of the city's most emblematic areas: Playa de Las Canteras. The area provides a unique and relaxing coastal environment, with suggestive views over the Atlantic Ocean. Moreover, it's location within the capital of Gran Canaria - internationally renowned for its extraordinarily blue skies the whole year round, plus average yearly temperatures of 23 degrees centigrade, regarded by journal "Consumer Travel Association" as the island with the best climate in the world - makes it the ideal venue to stage all sorts of events.
Oscar Tusquets conceived the "Palacio de Congresos de Canarias" as an isolated and self-sufficient fortress, whose layout and style far from mirrors the trend of uniformity that prevailed in the design of this type of architectonic structure. The wide diversity of styles, materials and colours employed in its construction, while fully and harmonically integrated in the building, leaves guests and visitors with the impression that they move through different spaces.
The building encompasses fourteen meeting rooms, seating up to 3,952 conference attendees. The Convention Centre covers a total surface area of 18,850 square metres, of which 16,050 sq m are usable surface area. The Symphony Hall - one of the jewels in the crown of the Convention Centre - is thought to be the most spectacular Hall in the building, featuring an enormous window, 100 sq. m. in size, as a backdrop to the stage. It allows visitors and conference attendees to enjoy unrestricted views over the Atlantic Ocean. Its seating capacity totals 1,656 and its hexagonal shape renders it one of the best venues for the staging of conferences.
Address:
Avda. Príncipe de Asturias, s/n.
35010 Las Palmas de Gran Canaria

Phone: +34 928 491 770
Fax: +34 928 491 853